Message from the 2019 OPATEA Show Chairman: 
Our 20th Anniversary OPATEA Annual Spring Show is June 1st and 2nd  and now would be a great time to think about our past, present and future. From our start under the guidance and wisdom of our founder Larry Nelson, the dedication and direction of past president Pete Britton, to our future under the forward thinking of current president Melanie Pruitt, our club has continued to grow and flourish. Now is the time for all of us to help our organization move forward by doing whatever we can to support OPATEA.  Our shows are the major way of fulfilling our goal of sharing the restoration, preservation, and use of antique tractors, hit and miss engines, and machinery with the public.  Anything you can do from set up to take down, passing out posters, recruiting sponsors, soliciting raffle items, and helping at registration or at the gates will assist our show in becoming the best in the West. Everyone can help, no job is too small, and anywhere you can assist will move OPATEA forward and continue its growth. I know everyone has a talent or expertise. Please consider sharing that with our organization and make the 2019 20th Anniversary show the best yet.
………………………………………………………………………………………………….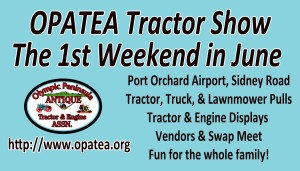 The

2019

Olympic Peninsula Antique Tractor and Engine Association's annual show will be held Saturday and Sunday June 1st & 2nd at the Port Orchard Airport – 12300 Sidney Rd. There will be tractor, truck, and lawnmower pulls, tractor and engine displays, tractor parade, swap meet, chain saw carving, food and craft vendors.
Admission is $2.00 each or $5.00 for the whole family with free parking.
Fun for the whole family!
Saturday Schedule:  9:00 AM to 8:00 PM
Sunday Schedule:  9:00 AM to 4:00 PM
Show Location: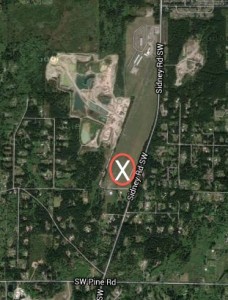 Port Orchard Airport – 12300 Sidney Rd